The LTC Recycling Program
Massachusetts Cleaning Service Provider For 40 Years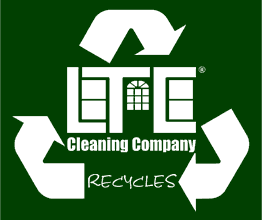 Our recycling program is a comprehensive approach that relies both on procedure at our two office locations and a willingness of employees to be mindful about reducing waste while working in the field.
At our office locations we employ the following recycling program:
All paper waste is recycled using a program approved of by the Town of Concord.

All invoices and statements are printed on 100% recycled paper.

Any paper products used for cleaning purposes must contain greater than 30% recycled product.
We are also cutting down on waste by asking employees to bring reusable water containers as opposed to throw away plastics. As of 2010 all window cleaning vans will be equipped with water jugs to help facilitate this change. We will also review our cleaning procedures to further reduce the use of paper products as new options become available.